28.03.2021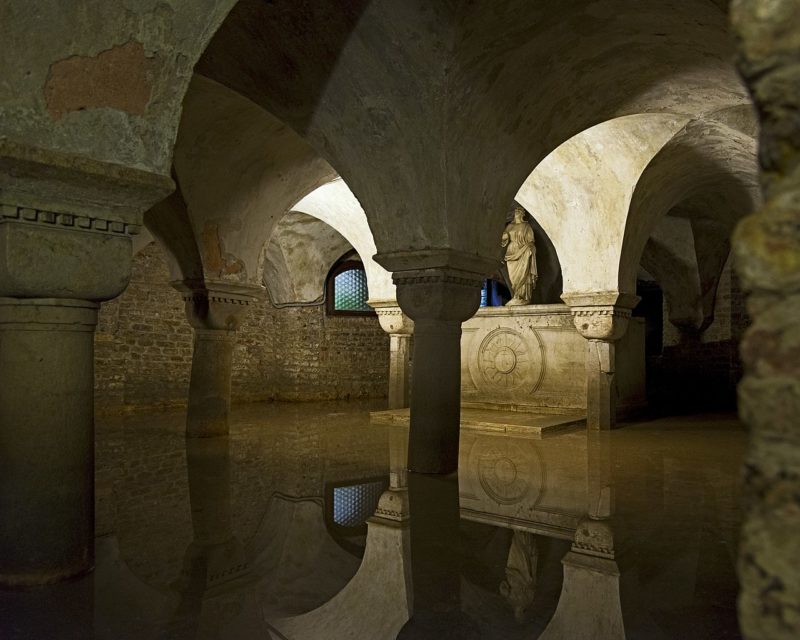 There is a Venice that few people still know, the Venice of the crypts, fundamental spaces in the architectural structure of many churches. Hidden places because underground, but no less rich in charm and art, originally designed to preserve the relics of the patron saints to whom the churches were dedicated, and today places of mystery and attraction.
San Zaccaria was the Pantheon of the Venetian Middle Ages: here lie eight ancient doges, the first of the Republic.
In 829 was founded the church of San Zaccaria in Venice, as an ideal continuation of the Basilica of San Marco, along with substantial emoluments to build next to a Benedictine monastery of female cloister, in which were locked up the daughters of the Venetian nobility in order to preserve intact the family properties: these nuns were reputed to lead a free and licentious life.
Between the Basilica of San Marco and the Monastery there was a vegetable garden ( brolo, in Venetian) owned by the nuns who sold a part to enlarge the square in front of the Basilica, and from here it seems born the Italian word cheat, because the square was called precisely "broglio", and here were found the fallen nobles, called Barnabotti, who sold their votes to the Great Council, thus generating deceit, agreements, disloyalty.
The Corps of San Zaccaria rests in the mysterious and fascinating crypt, which resisted a furious fire that killed more than a hundred nuns. In 1515 the Church assumed the appearance it now has, the facade completely redone by Codussi, while the Bell Tower, dating back to the eleventh century has remained the same.